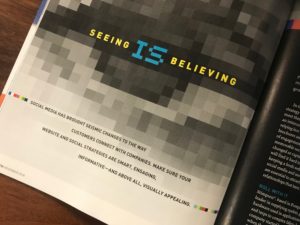 When he first hit the scene… we had no idea our beloved Keder Keith would make such a splash. Now 2 years later and he has vacationed with clients in Cabo, survived LollaPalooza & braved the Amazon. He is also the star of his own YouTube video series and makes regular appearances in Keder Solutions, social media campaign.

This week Keder Keith has hit a new high, and is so flattered to be featured in IFAI Specialty Fabrics Review.
Clearly well-traveled, not to mention having MAD singing skills & is FULL of Keder knowledge. Keder Keith is The Man and through all this fame, he maintains his modest Midwest roots and a fierce commitment to shouting the Keder message to the world. From TENTING to AWNINGS & All your SIGN and BANNER needs, he just loves to help. Ask him Anything!
*A special thank you to Specialty Fabrics Review and Angie West of IFAI.